Moisture-permeable, waterproof material
SAITOS
High-performance fabric using special polyurethane film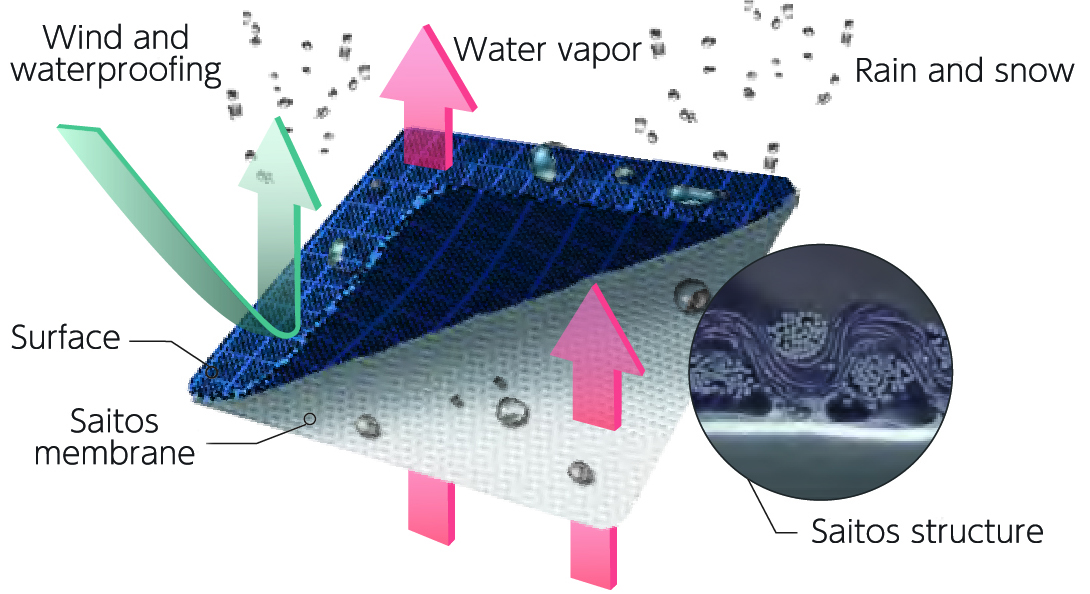 ●Moisture permeability
Saitos absorbs moisture such as sweat and releases it as vapor, preventing stuffiness and keeping your clothes comfortable.
●Wind Protection
Saitos prevents cold winds from entering inside clothing and suppresses drops in body temperature.
●Waterproof / Waterproof
Saitos can withstand water intrusion even under long periods of water pressure. Saitos is also excellent in water resistance and can prevent rain and water intrusion from the outside.

2 layers
Water Resistance 10,000mmH2O (98kPa) or more
Moisture permeability 10,000g/m2x24hrs or more*
3 layers
Water Resistance 20000mm H2O (198kPa) or more
Moisture permeability: 8000g/m2x24hrs or more*
*JIS L1099 B-1 method

Saitos®-Z is a laminated fabric with high water pressure resistance and high moisture permeability positioned in the highest grade of the special polyurethane film originally developed by Komatsu Matere Co., Ltd.
2 layers
Water Resistance 20000mm H2O (196kPa) or more
Moisture permeability 20000g/m2x24hrs or more*
3 layers
Water Resistance 30000mm H2O (294kPa)
Moisture permeability 15000g/m2x24hrs or more*
*JIS L1099 B-1 method