SDGs
Social contribution activities
Dreams and hopes for children as future leaders of society
Co-hosting a football competition for elementary school children in Nomi City (October 2014)
In October 2014, the ninth annual football competition for elementary school teams in Nomi City was held at the Monomiyama Athletic Stadium in Nomi City, Ishikawa Prefecture. The competition is aimed at helping local elementary school children to develop healthy minds and bodies, and at enabling them to learn teamwork and how to work on objectives through football. A total of eight elementary schools participated in the competition, in which children played intense games by showing the results of their daily practice for the honor of each school. It was a wonderful competition, and onlookers were impressed by the strong focus of the players who continued running until the end of each game without giving up, regardless of whether they won or lost, and their deep connections with their teammates and families, who cheered the players on enthusiastically.
As a co-host of the competition, which started in 2006, we plan and operate it every year. Many of our employees support the operation of the competition, from its preparation to the organization of games. In the Komatsu Matere Group, we will continue to contribute to local communities proactively so that children, as future leaders, can grow up with dreams and hopes.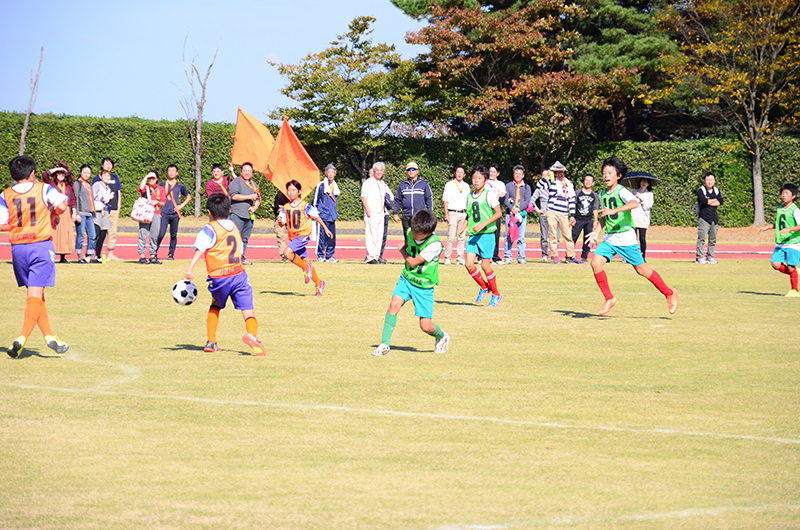 Co-hosting the Kodomo Meister Week (Children's Meister Week) (November 2014)
First held in 2008, the Kodomo Meister Week is aimed at developing creativity in children and students by raising their interest in a wide range of research and learning activities, including observations, experiments, and crafts, through industry-government-academia collaborations. During the week, we at Komatsu Matere exhibit the latest products that use our materials and hold science classes, in which we teach children about the wonder of fibers and the fun of science. Our Technology Development Division plays the leading role in holding these classes. A total of as many as 764 pieces of work from 11 elementary and junior high schools in Nomi City were exhibited at the venue.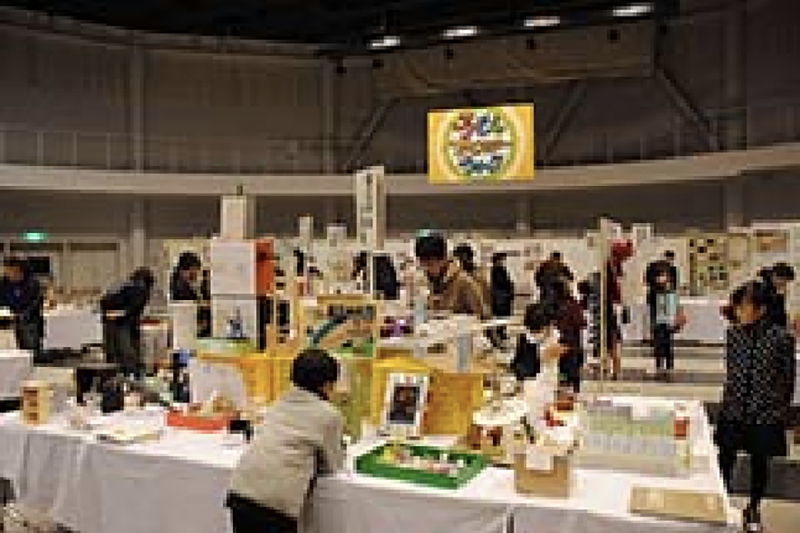 Kodomo Meister project receives Commendation for Science and Technology from the Minister of Education, Culture, Sports, Science and Technology (April 2014)
With the endorsement of the Commerce, Industry and Labor Department of the Ishikawa Prefectural Government, the Kodomo Meister project was awarded a Prize for Science and Technology in the Public Understanding Promotion Category in the Commendation for Science and Technology by the Minister of Education, Culture, Sports, Science and Technology. Established within the Ministry of Education, Culture, Sports, Science and Technology in 2005, this annual commendation program honors remarkable achievements in research and development, the promotion of understanding, and other activities related to science and technology. It was recognized that the Kodomo Meister project promotes widespread interest in and understanding of science and technology among the public, particularly among young people, which resulted in the honor.
Cleaning of the coast and the park by group employees and their families
Activities for cleaning beaches and an athletic park by Group employees and their families Every year, we clean up beaches near the Head Office and Factory and Mikawa Factory in summer (July) and an athletic park in Nomi City in autumn (October) as part of our activities to "Contribute to the earth and society," one of the elements of our corporate philosophy. More than 1,000 Komatsu Matere Group employees and their families participate in each of the cleaning activities to protect the abundant nature of Ishikawa Prefecture and to express gratitude to the local people for their understanding regarding our daily corporate activities. At the Komatsu Matere Group, we will not only operate our business but will also continue to engage in a variety of activities as a corporate citizen in order to contribute to society.