SDGs
Social contribution activity
Bringing Dreams and Hope to the Children for the Future
Received the Ishikawa Award for Distinguished Contribution to Environmental Conservation (July 2020)
On July 2, the 2020 Furusato Ishikawa Award Ceremony for Distinguished Contributions to Environmental Conservation was held at the Ishikawa Prefectural Government Office. The award is given to individuals, organizations, and companies who take the initiative in protecting and nurturing the environment in Ishikawa Prefecture and whose achievements are outstanding and serve as a model for others.
As part of its efforts to promote zero-emissions, our company was recognized for its contribution to environmental conservation in the region through activities, such as the environmentally-friendly material Greenbiz, including efforts to reduce waste and the development and commercialization of materials that make effective use of waste.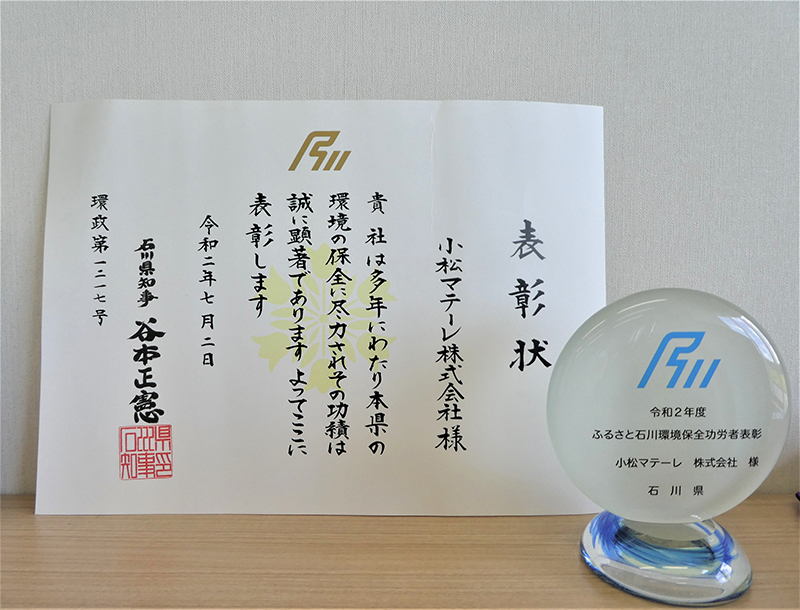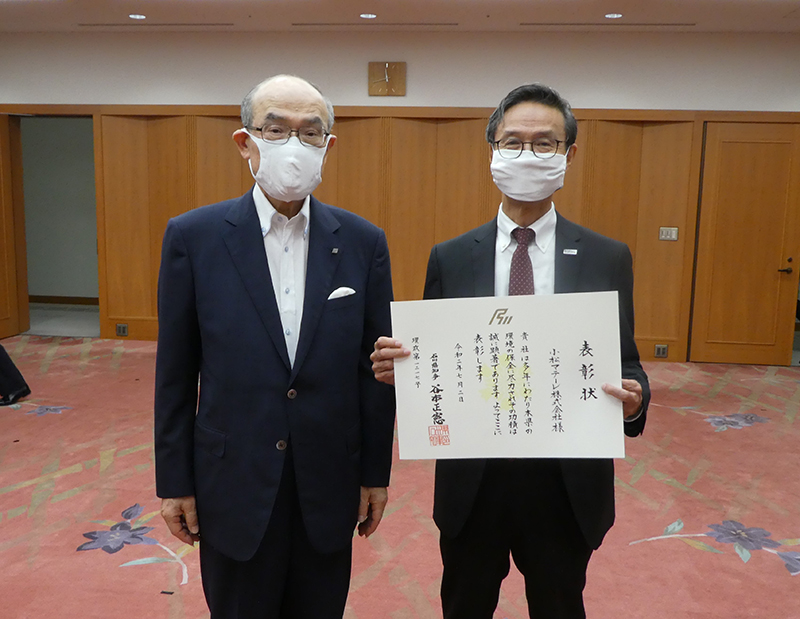 From left, Governor TANIMOTO and President SASAKI
Donation of Masks and Mask Inserts (June 2020)
Due to the spread of the novel coronavirus infection, we donated mask inserts to Komatsu City Hospital, Nomi City Hall, Kanazawa City Hall, and others, and masks to Ishikawa Prefectural Office and Komatsu City Hall, with the hope of easing the hearts and minds of the people of Ishikawa Prefecture.
We received a certificate of appreciation for our company's contributions to the local community.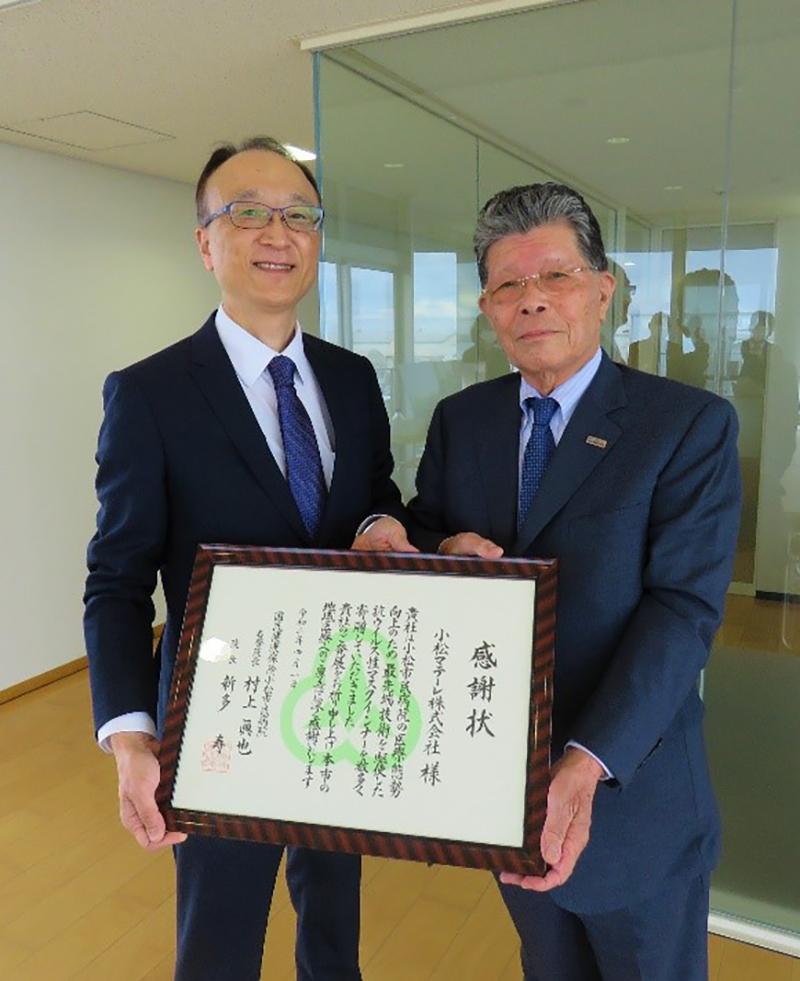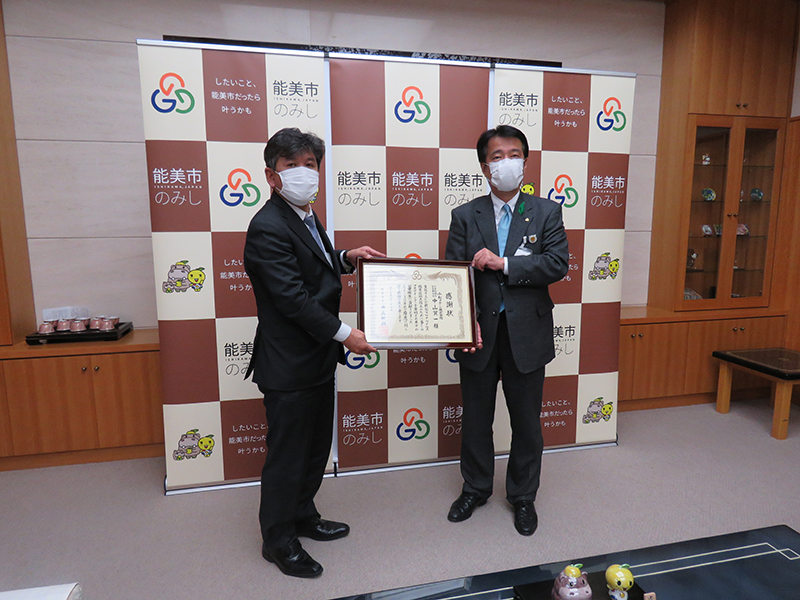 Received the Minister's Award for Regional Revitalization Support Tax System (Corporate Version of Hometown Tax Payment) (January 2020)
Our company received the "Minister's Award for Regional Revitalization Support Tax System (corporate version of Hometown Tax Payment)," established by the Cabinet Office, which is given to local governments and companies that have made particularly outstanding achievements in utilizing the Regional Revitalization Support Tax System and have engaged in activities that are recognized to serve as a model for others. Our company's efforts at the Kutani Ceramic Laboratory CERABO KUTANI, a multi-purpose Kutani pottery workshop that was created to revive Kutani pottery by rebranding it to bring out more of its appeal, were praised for having contributed to the revitalization of local communities through the revival of traditional industries and crafts, as well as the expansion of the number of people who interact with each other.
Our ultra-microporous foamed ceramic base Greenbiz, and carbon fiber composite material CABKOMA are used in CERABO KUTANI.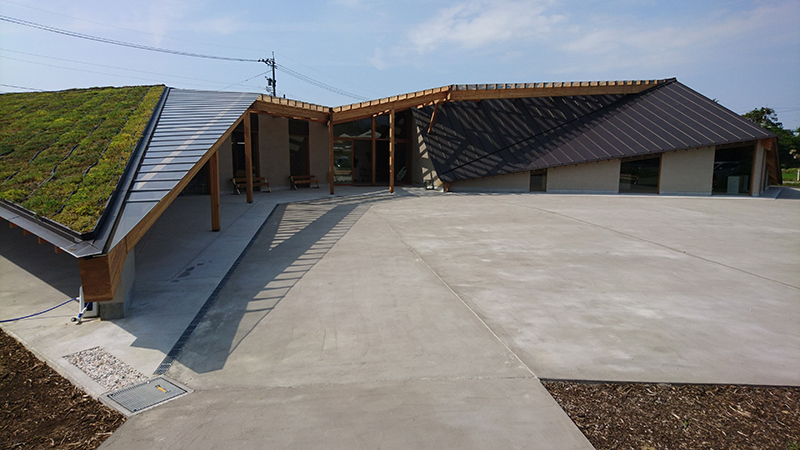 Schoolchildren Baseball Class Held (December 2019)
On Sunday, December 15, our company's baseball team held a baseball class for the Miyawa youth baseball club (a joint team of Miyatake and Wake Elementary Schools) in Nomi City Ishikawa Prefecture.
We talked about preparation exercises, equipment maintenance, and technique tips for catching and fielding practice. Although the children and their parents were a little nervous with the new people different from their usual director and team coaches, they listened to the instruction of our baseball team members seriously and with occasional smiles. After the baseball lesson, the participating children said they were happy and felt that they could improve themselves with this advice.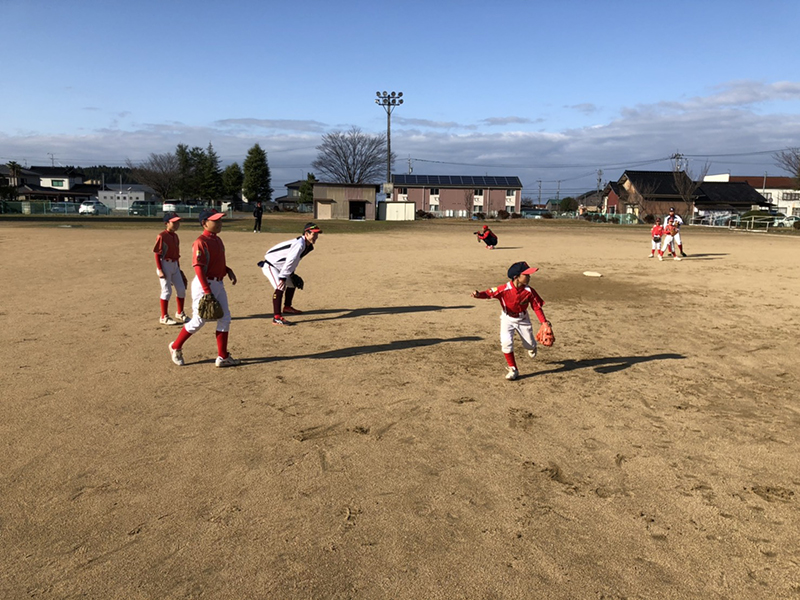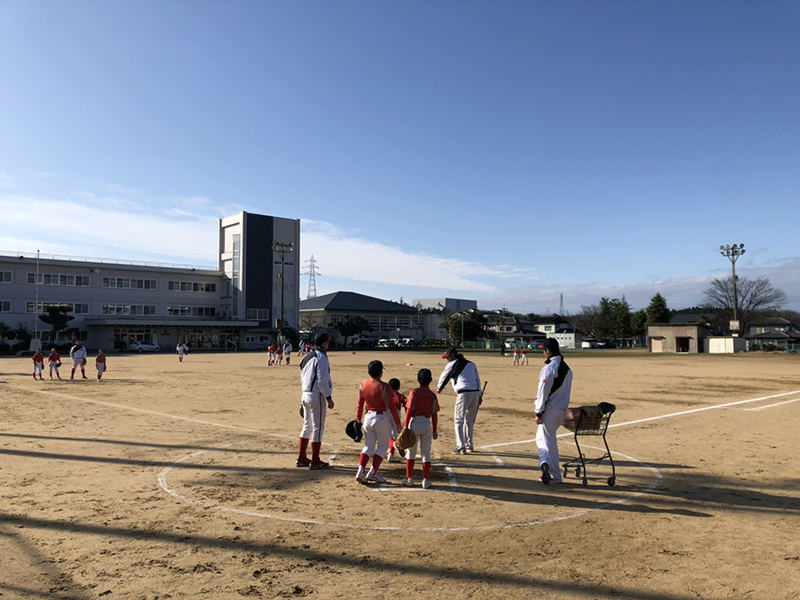 The 12th "Children's Meister Week" Held (November 2019)
The Children's Meister Week is an industry/government/academia collaboration event held to raise interest in research and learning for children and students in Nomi City and develop human resources with rich creativity.
We have been supporting this since 2008. This year's exhibition, the 12th in the series, featured a total of 700 works from 11 elementary and junior high schools in Nomi City in the categories of "Scientific Works and Free Research Division," "Idea and Free Craft Division," and "Painting and Calligraphy Division." During the event, we set up an experiment corner called "Interesting Science Experiments," led by young employees of our Technology Development Department, as a place to show children the fun of science.
The children were astonished to see how our special material repels water amazingly well.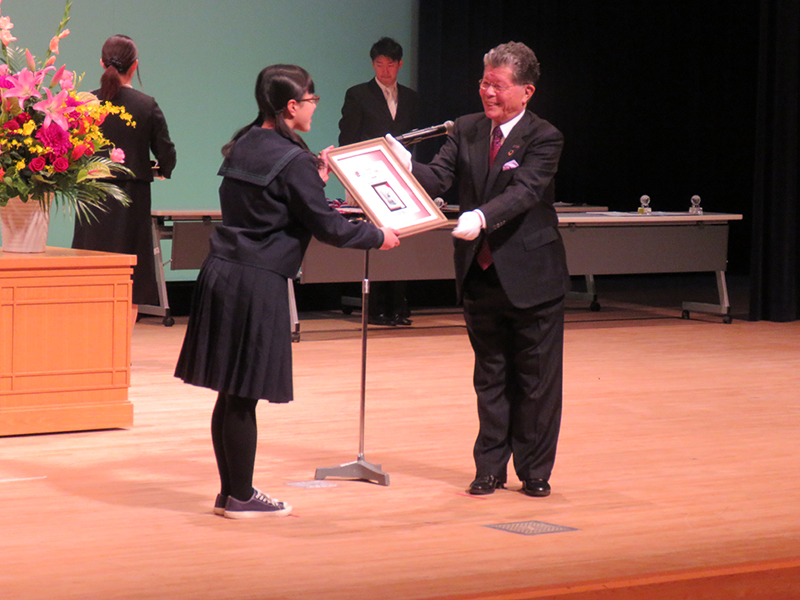 Cleanup of Beaches and Athletic Parks by Group Employees and Their Families
As part of our activities to contribute to the earth and society, which is one of our corporate ideals, the Komatsu Matele Group conducts a beach cleanup near our head office factory and Mikawa factory in the summer (July) and a cleanup of an athletic park in Nomi City in the fall (October). More than 1,000 group employees and their family members participate in the cleanup every year to protect Ishikawa's blessed nature and express gratitude to the local community for their understanding of our daily corporate activities. In the future, our group will continue to contribute to society through various activities as corporate citizens and conducting business.
At the same time, we also carry out pine tree planting and cleanup activities in other areas where we have planted trees.