For rooftops
For roads/exterior surfaces
For wall greening

Top >
greenbiz Roof:Features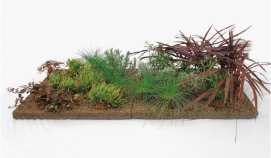 greenbiz-r, an ultra-microporous foam ceramic material, has a high water retention capacity of 12 tons or more per 1,000m². It controls drainage of heavy rain, and in summer, it cools down rooftop temperature by means of retained water, thus decreasing the "heat island" phenomenon. greenbiz-r is used for various purposes: as a rooftop greening base, as a nonflammable heat insulation material and as a protection material for water retention layers.

Our experimental data shows that rooftop greening with greenbiz-r reduces heat inflow by 80% in summer and heat outflow by 48% in winter. (※1) Only the use of greenbiz-r can decrease heat flow by 72% in summer and 70% in winter. (※2)
※1 Energy saving test of porous ceramic panel: Monthly average heat flow was calculated for the measurement on two kinds of rooftops (slab and greenbiz-r) from August 2009 to March 2010.


(By Kanazawa Institute of Technology, Tarumi Lab.)

※2 Temperature on the top and under the folded-plate roof of the temporary community center in Natori City, Miyagi, was measured in August, September and December 2011 and January 2012.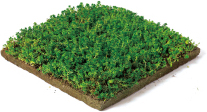 A cool-down effect is created by the evaporation and heat insulation property due to high water retention capacity. This controls thermal transmission, making spaces in buildings cool in summer and warm in winter.
greenbiz reduces CO2 emissions because less air conditioning is required.
※Based on data collected by Kanazawa Institute of Technology, Tarumi Lab.


greenbiz-r retains a lot of water due to its porosity, and it is resistant to freezing.
It passed the 200-cycle freezing/thawing test.